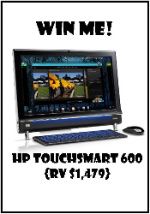 You are gonna be glad that I blogged about this giveaway.
An HP touchscreen computer
! Ahh, what a great giveaway!! I hope I win! :] I'm sorry, I so excited that I stumbled upon this giveaway (thanks ann!). In order to win, go to [
Jolly Mom
]'s blog, and submit your entries. You'll find the details there. And don't worry, the requirements aren't difficult. They are very simple! Also, if you want to check out what the computer looks like, visit
http://www.hp.com/united-states/campaigns/touchsmart/
. Alright, so what are you waiting for?? Go hop on over to
Jolly Mom
!